sales@trenchheating.com
Telephone number: 01525 721431
Design Application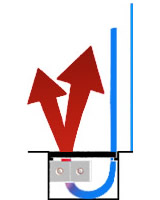 Positioned along glazing-secondary heating.
When used to counteract downdrafts and condensation on the glazing the finned element is positioned room side. This enables the cool incoming air to enter the heater on the glazing side.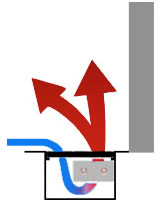 Positioned along a wall-primary or secondary heating.
When the trench heater is along a wall the finned element is positioned centrally. If a narrower unit is required then the finned element must be positioned wall side to draw the cool air in to enter the trench heater from the room side.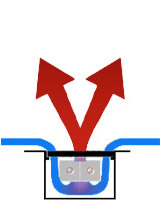 Positioned within room area – primary heating
When the trench heater is positioned within a floor area or along side glazing and is the primary source of heat for the room, the finned elements are central to allow cool air to enter from both sides.
PLEASE SPECIFY WHICH APPLICATION IS REQUIRED WHEN ORDERING.
All right reserved. Trench Heating LTD
sales@trenchheating.com Telephone number: 01525 721431